Learn How to Use the Interactive Map
Use MineralTracker's map feature to understand the positions of your wells and get an idea of future development. With the map feature, you can see where your wells are located and their position relative to neighboring wells, their lateral placement under the ground, and other features like drilling rigs and permitted wells.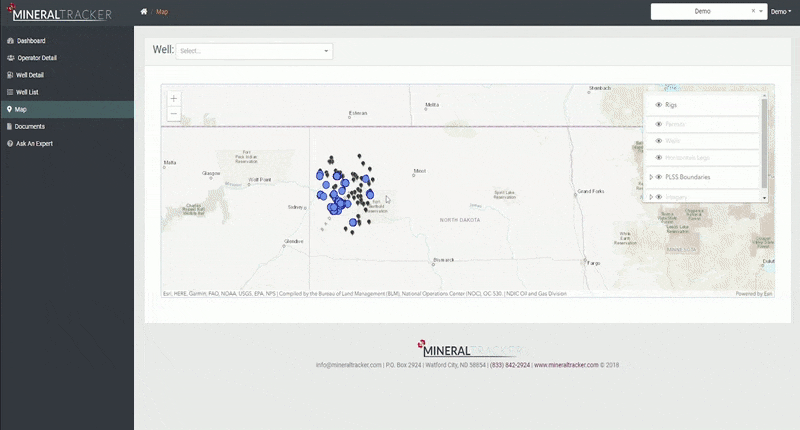 Click Map on the left menu ribbon to open up the interactive map.

Your Wells: The blue dots represent every well in which you own an interest. Zoom out to see all your wells at once. Click on the blue dots to open an expanded menu with the individual well's information. Clicking on the well name in the expanded menu will direct you to the Well Detail Page where you can find more information about the well (Pro Plan req'd). When you add more wells, they will appear on your map.
Other Wells: The purple dots are all other actively producing wells. Clicking on a purple dot will display well information for that well such as operator, well name, and more.
Horizontal Wellbores (Laterals): The purple lines stretching from the well dots are the lateral placements of the wells.  In other words where the wellbore is drilled through the Bakken or Three Forks formation. Note their position to get an idea on future developments and to understand the potential for future wells to be drilled on your minerals based on the density of nearby drilling.
Permitted Wells: The MineralTracker map will show you where newly permitted wells are located. Permitted wells are displayed as orange dots on the map. This is important to mineral owners to help you understand future development and drilling on or nearby your minerals.
Drilling Rigs: You MineralTracker map now displays drilling rigs! See the black rig icons on the map to find where wells are being established. This helps you get an idea of future development so you can see into the future.

Locate the white menu box on the top right corner of the map. Click Wells, Permits, Rigs, or Horizontal Legs to filter the map to view only the information you want to see. Scroll down in the menu to find Imagery. Toggle this switch to turn satellite imagery on and off.
You can add more wells from the Map page! At the bottom of the page, locate the Add a Well box. You can search for your well by selecting an operator from the drop-down menu, or by typing the well name. After finding the well, input your decimal interest, or how much you own in the particular well. You can find your decimal interest on your check stub from the oil company.
The interactive MineralTracker map is an easy-to-use tool that helps mineral owners visualize their wells and get a sense of future development. Play with this tool to learn more about your own wells, their positions, and the directions and lengths of the lateral placements.
---